Another citizen science project: Monitoring ecological change with smartphones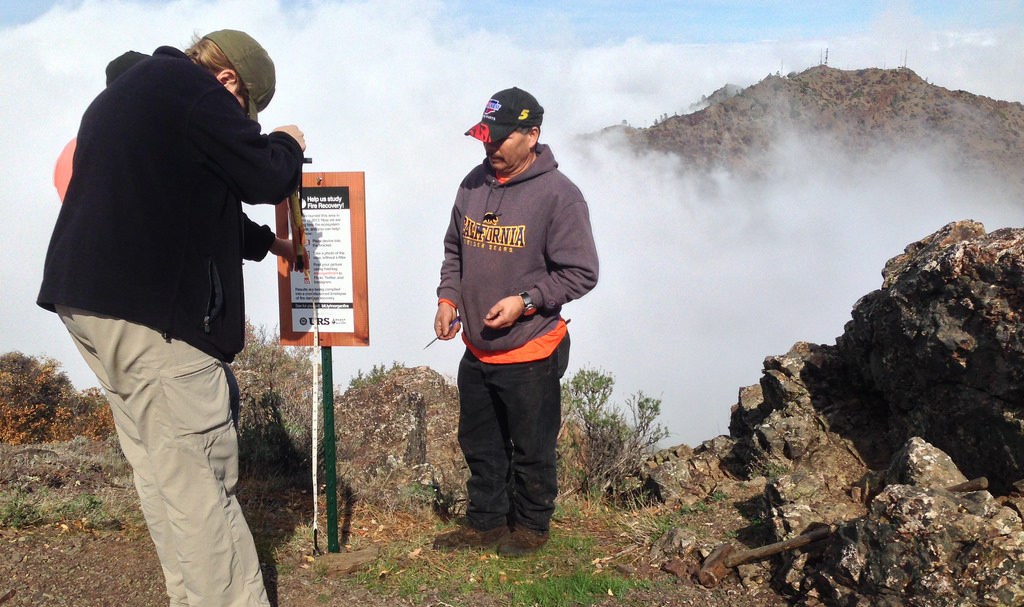 Image above: Nerds for Nature setting up #morganfire01. Licenced under CC-BY-SA 2.0
Mobile citizen science – people jointly contributing to research with their smartphones – has been a frequent topic on this blog (e.g. here, https://datarella.com/helping-people-to-understand-real-time-pollution-risks/, or https://datarella.com/mapping-particulate-dust-with-phones/). What makes it so compelling, is that on the one hand the crowd of participants can generate much more measurements than would be possible with just one team of researchers, on the other hand, it is way less expensive.
In the case of Nerds for Nature, the research set-up is truely minimalistic. The task, Nerds-for-Nature set, is to monitor the recovering flora and fauna at Mount Diablo State Park after a major wild fire, over the course of months and years. To do this, they installed a makeshift camera-stand at different locations, overlooking the desater area. They placed a sing next to the stand, with very simple instructions:
"Place the camera phone in the bracket."
"Take a photo of the view without filter."
"Post your picture using #diablofire01 to Twitter, Flickr and Instagram."
The project went viral, when Sergej Kropenin who works for Twitter, endorsed the project with posting an image and the text "Cool use of twitter". This has been retweeted more than 8.000 times now, which proves in an impressive way, how excited people are about these kind of projects!
Here is the link to Nerds for Nature:
www.nerdsfornature.org