The Datarella Data Timeline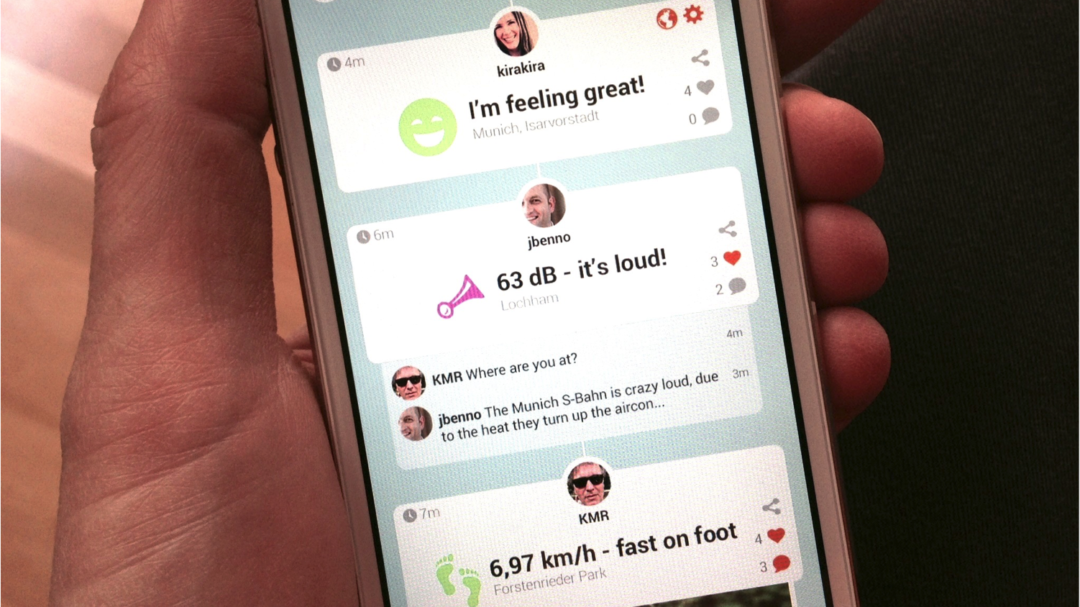 If you live in the Americas, Europe, Asia-Pacific or Australia, you probably are one of 1.76 billion smartphone users. What do you do with your smartphone? You use apps for texting, social networking, gaming, etc. And you produce data. Lots of data. Every move you make, every breath you take, your behavior results in data: location, movement, body functions, external situational data. And you produce all this data on the fly, passively, without any effort.
But where is this data? Can you see it? Do you know exactly which data you produce? At which times or to what extent? Do you know that your data can be of tremendous value for you? That you can improve your health by using it? Can you imagine knowing all about your data, that you see your data, in realtime, presented in a meaningful way that lets you understand its value?
Welcome to the Datarella Data Timeline 
The Data Timeline  is an app-centric timeline of your own behavior data and that of your social network. Using the Data Timeline is like looking into a mirror: you see yourself – not your external appearance but the visualization of your body data, you see the most complete picture of your Self. he Data Timeline presents your data in a contextualized way: you see the data and its meaning in individual contexts – your personal data moments.
Reason Why
Each day, an individual produces about 20MB of smartphone data. This data can be of vital relevance for her: it can save her life. Or it can help her optimize her life. Or the life of her friends. In order to make meaning of this data, the user needs her own individual data timeline, she needs to see her data, in its contexts and visualized in a comprehensible way.
You and your friends
And it's not only your Self – but you see real time snapshots of your friends, too! You know about their well-being, their movements or the noise levels they are exposed to. So you already know that your significant other is quite exhausted before she returns from work and you could prepare a candlelight dinner for her. You can share snapshots of your Self with your friends right away from the Data Timeline using the integrated Twitter, Facebook et al. sharing options. You decide with whom you want to share your data.
Own your body's data
You should own your body's data – because your data can reveal much more than even your doctors know. Your data is a very important part of you. You can use the Data Timeline to get the meaning of your data and – if you are a geek – you might even download all your raw data, dive into it and analyze it with your own tools. You have full ownership, full transparency and full visibility of your data.
The Data Timeline essentially is a platform matching users with Quantified Self services. It comes as in the user-centric format of an app timeline displaying the user's individual behavior data and that of her social network. It shows an individual's body and environmental data in its specific contexts. Passively tracked data are complemented with interaction data, such as status updates, comments and answered surveys.
The Data Timeline provides the user with her data itself and – via its API – the Data Timeline matches the user's individual needs based on her data with respective Quantified Self services in the areas of health, fitness & well-being, travel & tourism as well as finance.
The Data Timeline's technology is based on open source software, but all algorithms, especially for the Complex Event Processing Engine, are fully owned by Datarella. All raw personal data of individuals is owned by its respective users, according to German law. However, all aggregated data, all visualizations, and all analysis based on that data is owned by Datarella.