Boost your wellbeing and happiness with the explore app program SMILE!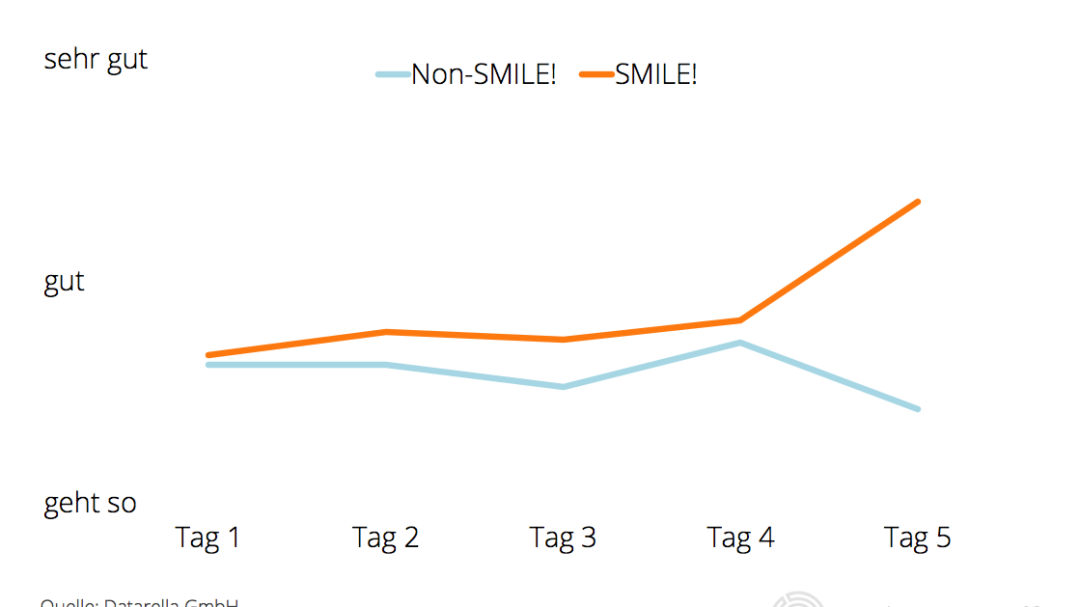 Too much workload, stress and ultimately the burnout – that's how many people see their everyday life. One way to handle the negative aspects of daily routines is to make it to the weekend (TGIF), another is to go on vacation. Whereas the first tactic is easy to realize but only helpful to a certain degree, the latter is possible once or twice a year for most of us. But there is another, more easy way to calm down and to boost your wellbeing and happiness: create and repeat small positive experiences – and you will see an immediate effect on your overall awareness of life.
As Sonya Lyubomirsky and Kristin Layous show in their paper, based on research by Ed Diener and others, it's the small and regularly repeated positive experiences which influence your wellbeing and happiness to a great extent. According to the Positive-Activity Model, features of positive activities, including their dosage, variety, sequence, and built-in social support, all influence their success in that process.
For our editorial team at Datarella, this model was a challenge: how could we use the explore app to get this model work in an optimal way? As always, the team decided not to head for the optimal – but for a good solution, to invite volunteers to participate  in a special program and ultimately to optimize the program together with the explore users. This program, SMILE!, should be designed very lean, with just a minimum number of interactions, and with an active participation for just a few days,  in order not to interfere with the model's cause-and-effect relationships.
After the 5-day-program, our data team analyzed the results. In short: our findings completely back the findings of Ed Diener et al.:
participants of the SMILE! program experienced a significant increase of their happiness with each additional day during the program
participants of the SMILE! program experienced an increase of their happiness compared with a test group of non-participants whose happiness level remained constant
small, regular and well-portioned challenges triggered a change of the participant's behavior resulting in an increased happiness level
The two charts below demonstrate the SMILE! effect:
(For non-german speaking users: Translation Chart 1:  "Did you laugh a lot, today?", Translation Chart 2:"Do you think that you laughed more often at the end of the program?", Translation Feature Visual:"How do you feel at the moment?)
The Datarella team itself participated in SMILE!, too. For me personally, it was a great experience. Being an optimistic guy and smiling often, the SMILE! challenges opened my eyes: in reality I have been smiling much less than I had thought. And triggered by the SMILE! challenges I was forced to become much more friendly.
For Datarella, the SMILE! program was a first test. We are planning to roll out several programs of this kind, all of them aiming to boost personal wellbeing and happiness. Since our editorial team is still in the process of creating these programs we'd like to invite you to participate and add your ideas, proposals and thoughts! We'd love to hear from you!