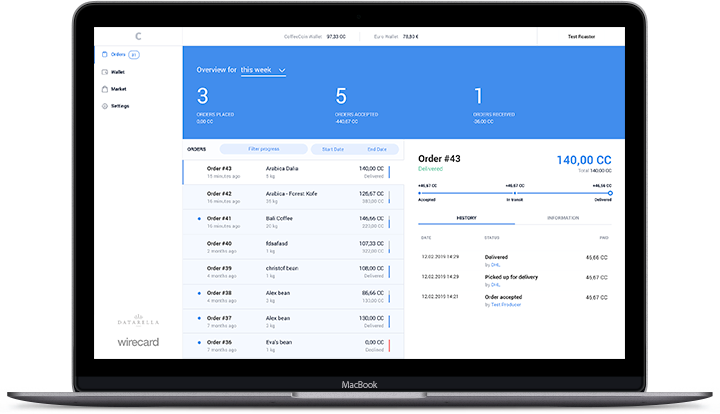 Raw Coin – Blockchain Based Supply Chain
Raw Coin is a new token empowering producers of raw materials and intermediary goods. Raw Coin enables direct global market access, trade financing and risk reduction.
The Raw Coin network is a blockchain-based ecosystem for supply chains, ensuring the origin, quality, compliance and proper handling of items tracked by the network. By utilizing blockchain technology, artificial intelligence and smart contracts, Raw Coin not only makes commodities trading more efficient but also provides transparency to supply chains.
Our core Raw Coin technology was produced through a joint effort between Datarella and Wirecard AG.
Value

Optimize Ecosystems: Streamlines business processes and eliminates intermediaries
Reduce Risk: Replaces uncertainty with transparency and a trusted decentralized ledger
Automation and trust via smart contracts: Reduces friction and improves efficiency by automatically executing business logic agreed upon by the participants
Provenance: Guarantees the quality and lineage of goods or services through an immutable shared ledger
Privacy: Participants have visibility only into transactions that correspond to their role in the network
Please drop us a line and we'll organize a demo to show the power of what we've built together with Wirecard.