INDUSTRIAL BLOCKCHAIN AND BIG DATA SOLUTIONS 
Mission Statement
Datarella Industrial Blockchain Solutions provides full service consulting, development and implementation for business applications of the blockchain. The Industrial Blockchain serves as foundational, underlying technology stack for Datarella Big Data Solutions, that provides data-driven solutions for digital business transformation : AI, Machine learning, predictive analytics, cloud storage and computing.
Services and Product Portfolio
With in-house technologies such as the Datarella Prediction Engine, the Datarella Sensory Framework or the IoT controller BAYDUINO, Datarella develops bespoke innovations for its clients' products and services. With CodeLegit, Datarella's legal libraries for smart contracts, we close the gap between code and law on the blockchain. With Crowdstart Capital, Datarella's accelerator for the blockchain ecosystem, we support blockchain-related infrastructure, applications and tools by rewarding developers with XSC tokens that are tradable at cryptoexchanges. Based on Datarella's Building Blocks project for United Nations, we have developed a fully functional payment and acoounting system for people who can't get a bank account. This 'Banking for the Unbanked' system is currently being tested for real-life deployment to serve the unbanked in some of the most remote underserved countries in the world.
Clients
Datarella serves clients over many industries: Insurance, Automotive, Manufacturing, Finance, Media, Politics and Government – here an excerpt:








Project: Blockchain for the United Nation's World Food Programme
For the UN World Food Programme, the United Nations' agency for aid logistics, Datarella developed and deployed a digital asset management and accounting system to distribute aid in kind as well as in cash directly to people in need. The System, called 'WFP Building Blocks' runs on a permissioned, private Ethereum network based on Parity.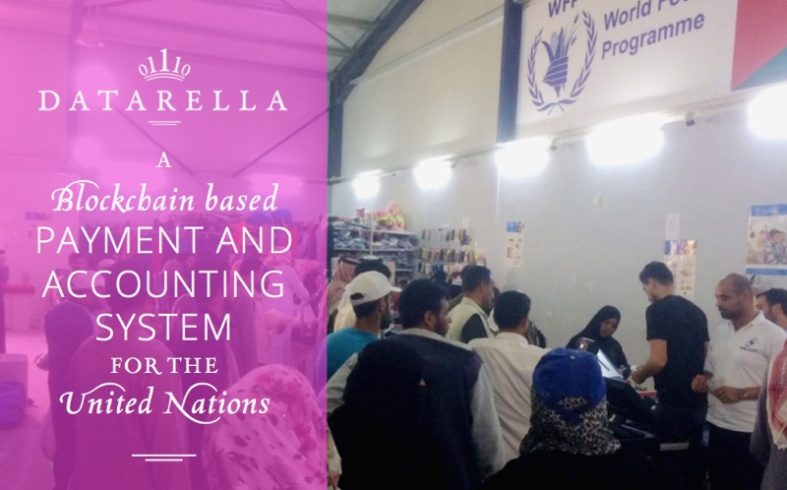 The system has been running faultlessly in the Tazweed supermarkets in Jordan's refugee camps since May 1st and processes
thousands of transactions and millions of US-Dollars.
The blockchain effects with two levers:
Leaving out the intermediary and cutting transaction costs significantly
Making auditing seamless and offer real time reporting and controlling options.
The estimated cost savings cut for the UN is 3.5m USD per year in Jordan alone.  Development and successful deployment of the system took less than five months. The extreme short development time and the seamless switch into real world operation is an impressive proof of the capabilities of blockchain technology.